Krakow Street Band is a proud representative of the city of Cracow and Poland's music scene for listeners from Poland and abroad. Since the group's formation in 2014 they keep a steady pace, gaining popularity with each month. Right now they're touring with their third album, "Going Away", based entirely on original material. It consists of 11 lively but unpretentious songs, neatly balancing between contemporary folk, jazz and blues. The beautiful acoustics of Radio Kraków's studio allowed to capture nuance in the music of this lively ensemble, which has evolved quite a bit since their street beginnings. "Going Away" recieved a nomination for the Blues/Country category of 2019 "Fryderyk" award, the most prestigous music award in Poland.
The self-made music video for "Fluke", a single off the band's newest album, is probably the best depiction of Kraków Street Band :)
"Fluke" and Kraków Street Band's 2018 summer tour
photo: Radek Raszka
Concert in Program 3 of Polish Radio:
Kraków Street Band in Trójka:Polskie Radio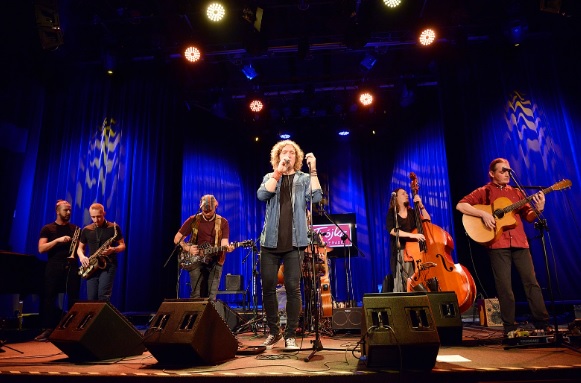 Kraków Street Band in Polish TV "Dzień Dobry TVN"
A bit of history…
Kraków Street Band came to life in the spring of 2014, and at first the band's whole activity was confined in the inviting space of Cracow's main square. Soon enough, an idea appeared to record the band's first album – funded by means of an extremely successful crowdfunding campaign, finished with 170% of the planned amount. And this was just the beginning... Then, the band got to the finals of Must Be The Music, a talent show with millions of viewers, with excellent opinions from the jury on all stages. In the annual survey of Poland's most renowned blues magazine "Twój Blues", Kraków Street Band won "Discovery of the year" 2014 and "Band of the year" 2015.
In 2015 they released their second, exceptional album recorded in Radio Kraków - "Dedicated To Jerzy Wójcik", honoring the memory of Poland's first bluegrass musician. Songs from the repertoire of Little Ole Opry, Wójcik's band, were recorded in new versions by Kraków Street Band with Krystyna Święcicka-Wójcik and guests. 
In march 2018, after winning the Polish Blues Challenge, Kraków Street Band represented Poland on the most prestigious Blues competition in Europe – European Blues Challenge in Hell (Norway). A month later, individual musicians were awarded prizes in 2017's Twój Blues survey – Łukasz Wiśniewski and Tomek Kruk were voted "vocalist of the year" and "guitarist of the year", respectively.
In January 2019 "Going Away" was nominated for "Fryderyki" award in the Blues/Country category.
And all this comes as no surprise – Kraków Street Band's performances burst with passion and raw happiness, and the musicians themselves… see for yourself in their self-made music video 
"Fluke"!
Worldwide festivals:
European Blues Challenge (Norway)
Sziget (Hungary)
Sarnico Buskers Festival (Italy)
Dixie und Swingfestival Furstenfeld (Austria)
JazzFest Gronau (Germany)
ProLoco Sarmede (Italy)
Museum Night in Budapest (Hungary)
Virag Festival (Hungary)
Haizetara (Spain)
Uldum Street Music Festival (Denmark)
Eutin Bluesfest (Germany)
Veszprémi Utcazene (Hungary)
Ferrara Buskers Festival (Italy)
...and many more
Festivals in Poland:
Jazz nad Odrą (Wrocław)
Rawa Blues Festival (Katowice)
Festiwal Filmowy Dwa Brzegi (Kazimierz Dolny)
Green Festival (Olsztyn)
Blues Express (Zakrzewo)
Jesień z Bluesem (Białystok)
Bluesroads (Kraków)
Kraśnik Blues Meeting
Blues na Świecie (Świecie)
Kielce Rockują
Breakout Days (Rzeszów)
Festiwal Filmowy Dwa Brzegi (Kazimierz Dolny)
Bluestracje (Chorzów)
Meskalina (Poznań)
Blues Nad Bobrem (Kliczków)
Las, Woda i Blues (Radzyń)
Blues Piknik (Lubliniec)
Festiwal Kapel Podwórkowych (Werbkowice)
Zderzenia Muzyczne (Mielec)
Augustowskie Motonoce
Lep na Bluesa (Józefów)
WPA Festival (Duszniki Zdrój)
Lauba Pełno Bluesa (Chorzów)
Swing Era Festival (Kraków)
Z Wiejskiego Podwórza (Czeremcha)
...and many, many more!